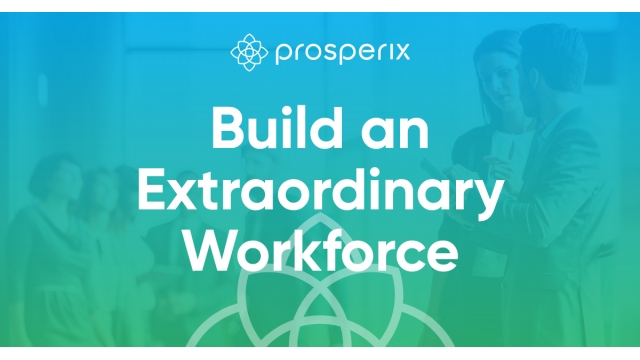 This move coincides with the strong jobs report which saw unemployment fall to a decades-long low, making competition for the best employees even fiercer. Prosperix offers a hiring marketplace where businesses can source top-notch talents from national agencies, boutique recruiters, and individual applicants in an all-in-one platform.
More information about Prosperix is available via https://prosperix.com/hiring-marketplace
To further streamline the hiring process, Prosperix uses AI to conduct preliminary screenings and matches employers only with applicants that meet their qualifications. Moreover, users can create custom workflows to automate steps like contacting potential talents, setting interviews, submitting documentary requirements, and more.
BUILDING A FLEXIBLE WORKFORCE
Prosperix can be used to tailor-fit a company's workforce. Aside from full-time staff, the marketplace can also be used to find contractual employees to augment operations during busy periods. Likewise, businesses can search for local, remote, offshore, and hybrid workers from around the world.
By leveraging machine learning, Prosperix can reduce the workload of internal HR teams without compromising on candidate quality. The marketplace is also cost-efficient, as clients only pay a fee whenever an applicant is successfully placed, maximizing savings.
A NOVEL APPROACH
By bringing together multiple talent sources into one platform, recruiters are treated just like any supplier. Prosperix shows ratings for each supplier based on critical metrics like hiring success. The company said that besides improving transparency, this feature also enables hiring managers to prioritize suppliers with a good track record.
"If you've ever used a recruiter before, you know how disempowering the experience can be. Our recruiter-as-a-supplier model gives you full control of the process, so you can feel confident about each hire you make," a spokesperson said. "Furthermore, utilizing artificial intelligence fast-tracks the process while still allowing you to curate each applicant you interview. It's truly the best of both worlds."
Companies may request a no-obligation demonstration of the hiring marketplace.
They may also visit https://prosperix.com/hiring-marketplace for more details about the platform and its features.
Prosperix
rohans@prosperix.com
+1-844-467-2300
3540 West Sahara Avenue, Suite 440
United States
COMTEX_425753292/2764/2023-03-02T01:19:57