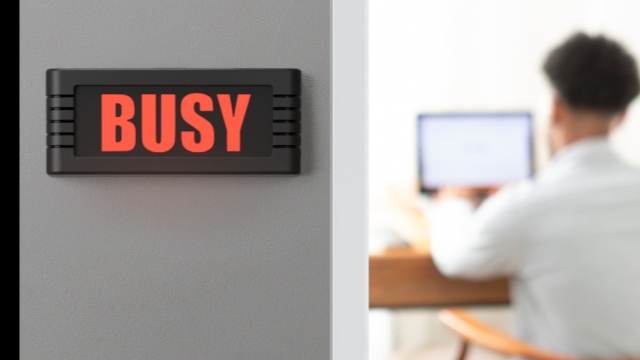 With the latest update, BusyBox is providing professionals who work from home and use Zoom a stylish and affordable way of preventing distractions while on a Zoom call and improving productivity and professionalism. The BusyBox LED door signs display custom messages alerting others that work or study is in progress.
More details can be found at https://shop.busyboxsign.com
During the pandemic, many people were required to work from home. But coming out of the pandemic, many employees and employers are permanently transitioning to remote or hybrid work models. A recent 2022 Gallup survey found that 8 in 10 Knowledge Worker Americans are now working remote or hybrid jobs. While working from home can be advantageous, it also presents many challenges. BusyBox's newest LED door signs help remote workers navigate these disturbances.
The signs are available in four models–Standard, Digital, Remote, and Pixel. BusyBox's most popular model, Standard, uses interchangeable messages, which can be slid in and out of the device depending on the situation. These messages include BUSY, DO NOT DISTURB, and ON AIR, among others. The messages are lit up and can be any color light and be steady, or blink or pulse, which is controlled using the BusyBox Sign App.
The Remote model offers the same functions as Standard, only it is controlled using a remote rather than the app. The Digital and Pixel models allow for the most customizability. Digital features an HD screen, which can be programmed to display personalized messages. Pixel allows for the same level of customizability as Digital, only in a retro, 8-bit style. Like the Standard model, Digital and Pixel are controlled using the BusyBox Sign App.
The signs feature a black radio-style cover inspired by signs of the 40s and 50s and go well with most home decor styles. Depending on the model, the rechargeable battery is capable of holding up to a 120-hour charge. Also included with each BusyBox LED door sign are a wall mount kit and USB charging cable.
The BusyBox Sign App is available for download through the BusyBox website and app stores. The app allows users to change messaging, adjust brightness, and modify the color with the touch of a button. It can also sync with other apps, such as Google Calendar, Zoom, Google Assistant and Siri, for a fully-integrated and hands free experience.
Interested parties can find more information at https://shop.busyboxsign.com
BusyBox Corp.
Hello@BusyBoxSign.com
1 Main Street
Suite 5
United States
COMTEX_425740216/2764/2023-03-01T20:06:08