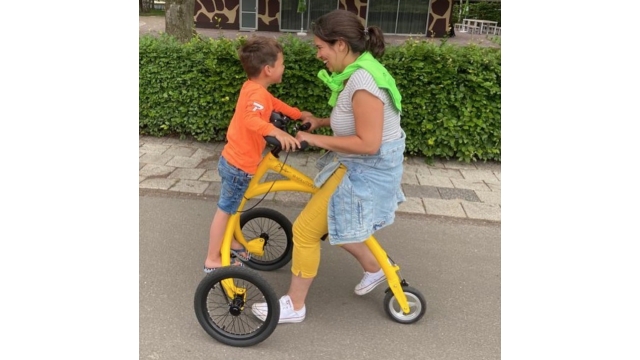 The recently added size, Happy Small, will be available for shipping in March 2023. The bike comes with a shorter seat pen and backend compared to the Small size, and with no suspension. Its minimum inseam is 24 inches only and is equipped with brand new, non-inflatable rear wheels developed by the company, made from solid alloy and rubber, with holes to make it more bouncy.
More information can be found at https://thealinker.com
With the latest move, Alinker wants to better accommodate more individuals with mobility challenges by providing them with the right size for them to make walking easier and less painful. While the maximum supported weight of each bike is 265 Lbs (120 kg), the sizes differ in terms of the length of the user's legs.
Alinker advises that the best way to determine the appropriate size is by standing against a wall with a hardcover book held loosely between a person's legs. The distance from the floor to the top of the book is the accurate size for the user.
The company's website offers a corresponding size grid and customer representatives are available online to answer any questions visitors to the site may have.
Alinker is a non-motorized bike that has been especially useful for individuals who have been diagnosed with conditions that make exercising difficult, such as Parkinson's, Muscular Dystrophy, Multiple Sclerosis, and Arthritis. A demonstration of how the bike works can be found at https://thealinker.com/pages/how-it-works
The Alinker is a walking bike that has no pedals and instead encourages the user to walk and use the Alinker's seat as support. Created to promote physical activity and stimulate higher self-esteem, the company created the Alinker as a way for those with disabilities to remain active members of society.
As a spokesperson explained: "Alinker is designed for how we want to live, how we want to feel and not stigmatized as a 'body with a problem'. The Alinker is a walking bike designed for people with limited mobility due to an injury or illness. The benefits of using an Alinker are wide-ranging."
Among the benefits, Alinker helps users to regain their muscle strength and improve flexibility while increasing their mobility and independence. In addition to enabling them to effectively exercise, the Alinker also allows users to remain at eye level with their colleagues, friends, and family.
Alinker cautions new users to gradually acclimate themselves to the bike, as the muscles it stimulates may have not been used in some time. Frequent rests are encouraged at the beginning, per the company.
A satisfied Alinker owner said: "Alinker is a game changer. Able to keep up with my son on a walk while activating my brain without overstressing my body. Thank you for this invaluable invention."
Interested parties can find more information by visiting https://thealinker.com/products/the-alinker
Alinker
molly@thealinker.com
205 – 2055 Commercial Drive
Canada
COMTEX_425687734/2764/2023-03-01T00:07:24