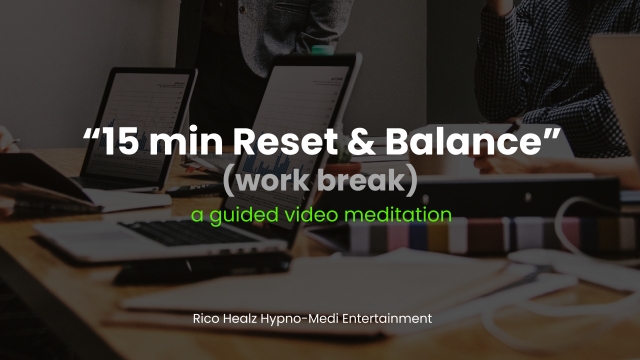 Earlier today, Hypno-Medi Entertainment finally announced the release of "15 min Reset & Balance Meditation"– it's new guided video mediation, which has been in development since early February 2023. The main aim is that this product is going to get people mentally where they need to be for high level work performance. Relieve stress, reset, and balance in the moment right now. Lightning fast and more effectively deep with in your subconscious mind…. but it does so, with a difference.
Rico Healz, owner at Hypno-Medi Entertainment, says: "We wanted to try something new with the"15 min Reset & Balance Meditation". Anyone familiar with the meditation audio market will probably have noticed how everyone else seems to follow the same boring lackluster meditation formats and styles. This is a problem because the chances of these type of meditations leaving a lasting impression on the subconscious in an effective manner is very slim."
So as a welcome breath of fresh air, "15 min Reset & Balance Meditation" will instead mix certain methods of not only meditation, but hypnosis and brainwave entrainment as well. Hypno-Medi Entertainment chose to make this move because everything else we've experienced online is pretty much copied the same exact way.
Rico Healz also said "We want to give our customers a new and refreshing perspective on what a high quality and effective reset and balance meditation is supposed to be like. With "15 min Reset & Balance Meditation", they have a fresh new possibility. We want them to feel good knowing an open mind and a valiant effort will get them results they want. When using "15 min Reset & Balance Meditation". Trying something new is always a risk, but it's a risk we believe is worth taking."
Hypno-Medi Entertainment has been in business for since the end of last year, being established in November 2022. Since day one it has always aimed to help clients and customers become their best selves.
"15 min Reset & Balance Meditation" has already launched. To try it out free in real time yourself, visit https://youtu.be/90i-Bx3rWn4
For further information about Hypno-Medi Entertainment, all this can be discovered at https://bit.ly/3Yl8kMU
Rico Healz Hypno-Medi Entertainment
ricohealz@gmail.com
+1-720-295-2852
1552 N Xavier St
United States
COMTEX_425687696/2764/2023-03-01T00:07:19