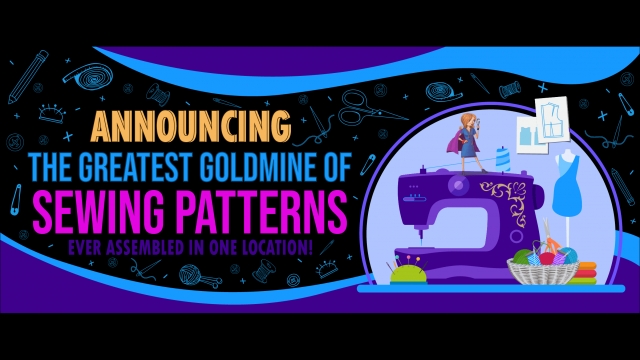 The new online database for sewing machine patterns and courses has been created by an American master seamstress, Molly McGuire, who believes that there is an easier way for beginner sewists to learn the craft. As such, Sewing Pattern Secrets adds to their repertoire of sewing project kits monthly, with the latest addition being a girls' cargo shorts pattern.
More information is available at https://sewingpatternsecrets.com/vsl?el=cm
The release of their new girls' cargo shorts pattern coincides with the comeback of the cargo pant last year. As a recent article on Vogue magazine stated, cargo is back, and it has "sartorial staying power". Sewing Pattern Secrets believes that for young and teenage girls, the cargo shorts and pants are both stylish, practical, durable and comfortable.
The online membership platform's new girls' cargos sewing project kit contains a list of comprehensive step-by-step instructions to help beginner sewists throughout every stage of the project. It also contains a detailed material and cutting list, project schematics and views of the final garment from all angles to reduce the margin for error.
Additionally, all of Sewing Pattern Secrets' project kits contain links to online videos, lessons and courses from their online sewing classroom. These courses cover key skills that will be integral to the execution of the design.
While the platform takes care of all the practicalities, they leave the creativity up to sewists, who can choose to make their girls' cargos in a classic cotton synthetic blend, in a similarly heavy-duty fashionable fabric like corduroy, or in a more summery linen blend.
Sewing Pattern Secrets' new girls' cargo shorts can also easily be adapted in length, including to full-length pants.
On top of their new girls' cargos, Sewing Pattern Secrets also has project kits for girls' other clothing items like blouses and tops, dresses, jumpers and leggings.
A spokesperson for the new online database for sewing machine patterns said, "With Sewing Pattern Secrets, you can make over 125 different sewing projects with our easy-to-follow step-by-step patterns. In addition to our database of sewing patterns, we also release new patterns every month drafted from our workshop."
More details can be found at https://sewingpatternsecrets.com/vsl?el=cm
Sewing Pattern Secrets LLC
support@sewingpattternsecrets.com
+1-833-739-3279
145 Great Road
STE 6
United States
COMTEX_425687758/2764/2023-03-01T00:07:27