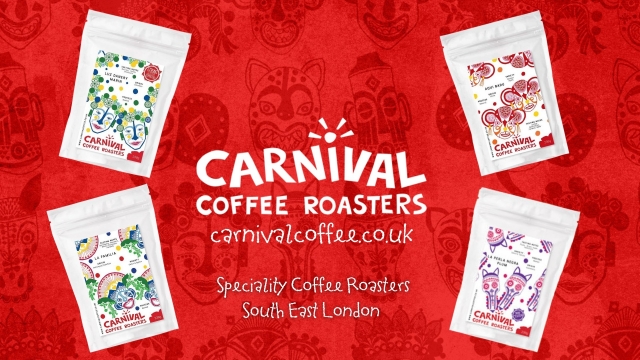 The move comes with Carnival Coffee Roasters aiming to energise cyclists throughout local London boroughs, encouraging greener travel in the process. Its antioxidant-rich coffee products are available in various grinds, allowing for customers to select coffee based on their own preferences in terms of taste and type.
For more information see https://carnivalcoffee.co.uk/collections/all
Many of the newly added coffee products are offered for different brewing methods from espresso to pour over with each variety suiting different preparation needs. Selling coffee influenced by and originating from nations such as Colombia, Nicaragua, Ethiopia, and Thailand, Carnival Coffee Roasters celebrates coffee's international diversity.
Drawing on the company's South American heritage, Carnival Coffee Roasters looks to source coffee products that showcase inherently versatile flavours. As such, thanks to partnerships with luxury outlets, it also offers unique items including coffee-blend beers, candles, chocolates, and more.
In the words of a Carnival Coffee Roasters spokesperson: "Our mission is to roast awesome speciality coffee that is full of flavour and wonder. We want to share our love of these beautiful beans with you and for you to love what we do."
Further benefiting coffee aficionados who cycle on a daily basis, Carnival Coffee Roasters makes available subscription options facilitating regular coffee delivery. For more convenience, this cuts out time spent choosing coffee and keeps customers' favourite products arriving as frequently as needed. In addition, members of its Carnival Club receive a different seasonal variety with each delivery.
More details about the subscription can be found in this article: https://finance.yahoo.com/news/south-east-london-coffee-subscription-090600313.html
Family-owned and operated, Carnival Coffee Roasters continues to support local communities throughout London and beyond through its partnerships and collaborations.
"We always look forward to the new coffee beans arriving each month," said one regular customer. "The different varieties from around the world each have their own unique qualities but are always well chosen and delicious."
In line with values that prioritise sustainability and eco-awareness, Carnival Coffee Roasters offers green delivery options via push-powered bicycles to locally-based Southeast London customers. This can be arranged alongside Royal Mail shipping at its official website.
Interested parties in the Camberwell, SE5 area and nearby can find further details about Carnival Coffee Roasters and its products at https://carnivalcoffee.co.uk
Carnival Coffee Roasters
5-7 Station Road (Unit 1E)
United Kingdom
COMTEX_425687719/2764/2023-03-01T00:07:22